08/11/2017 / By Kristine Payne
---
Once a prized ingredient in the cuisine of India and Pakistan, turmeric (Curcuma longa) has since gained worldwide renown as a potent superfood. This peppery-tasting, golden-hued spice has multiple health benefits that make it a worthy addition to any diet. Regular consumption of turmeric can give your overall health a much-needed boost by:
Aiding digestion: Curcumin, the most active compound or curcuminoid in turmeric, promotes digestive health. This in turn ensures that the digestive system continues to function smoothly.
Supporting the heart: Another benefit of curcumin lies in its positive effects on the heart. In a 2012 study published in the American Journal of Cardiology, the researchers discovered that taking curcumin capsules four times a day can support a healthy heart.
Enhancing antioxidant activity: Oxidative damage can weaken the body and its systems, hence the importance of antioxidants to one's health, and one of the most noteworthy benefits of turmeric.
Clearing up the skin: Externally using turmeric can improve your appearance by smoothing out and clarifying your skin. Furthermore, turmeric can help decrease the amount of oil produced by overactive sebaceous glands without drying out the skin.
Reducing pain during menstruation: Turmeric can assist women with normal menstrual discharge flow. As a result, the pain that is typically associated with periods is lessened.
Lifting mood and encouraging good sleep: Taking turmeric can lead to improved mood. In addition to boosting your mood, one other benefit of turmeric is that it can help you sleep a lot better too.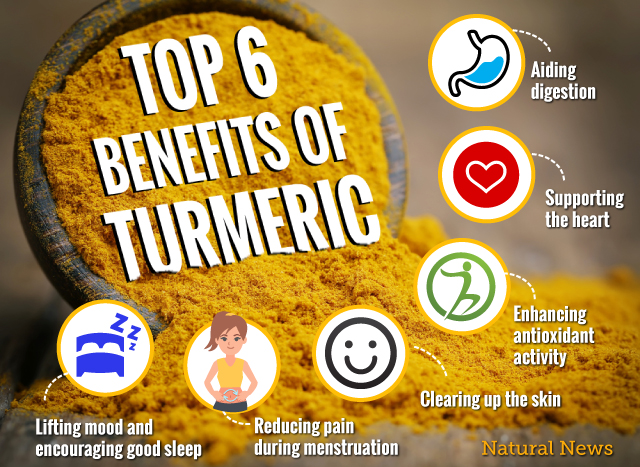 If you're now wondering how to enjoy turmeric, it's quite easy. As a culinary spice with a history spanning thousands of years, turmeric has been used in all kinds of recipes. An example of this is in a simple but delicious vegetable curry, which makes use of the following ingredients:
Two tbsp coconut or olive oil
One tbsp cumin seeds
Two diced garlic cloves
One chopped medium red onion
One peeled and diced piece of ginger
One or two seeded and diced green chili
One can of diced or crushed tomatoes
One-half tsp turmeric
One-half tsp chili powder
One tbsp cumin powder
One tbsp coriander powder
Heat the oil in a pan. Add the cumin seeds, onion, garlic, ginger and chili. Stir well and mix occasionally. Add the spices and stir them in for a minute or two. Pour in the tomatoes and stir until the tomato water evaporates, leaving behind a thick sauce. Garnish with cilantro then add salt and black pepper to taste. Serve with rice or plain yogurt. Note that black pepper is essential to this recipe since it increases the bioavailability of turmeric, and helps the body absorb its nutrients better.
Although turmeric is a helpful superfood, the taste can be too difficult for some people to swallow. Fortunately, the Health Ranger has got you covered. We're proud to offer lab-verified, filler- and preservative-free Hawaiian Turmeric Gummy Bears for those who want to reap the health benefits of turmeric without the distinct aftertaste. For those who don't mind the flavor one bit and wish to enjoy turmeric with their favorite recipes, we've got non-GMO, low heavy metals-verified Health Ranger Select 100% Organic Turmeric Root Powder sourced from organic farms in India. Those who want to take turmeric in its purest form can find their fix in the Health Ranger's Organic Turmeric Gold, a vegan and kosher-certified formula created without additives or artificial sweeteners.
Unlike most turmeric you can find on the market, all the turmeric products available at the Health Ranger Store are heavy metals verified, meaning you're buying turmeric that has undergone meticulous and strict lab testing to ensure its purity.
However you wish to take it, you can't go wrong with turmeric. Make it a part of your diet and healthy lifestyle today.
Sources include: